Communications Equipment
Technical Specifications 
Medical & Emergency Response Team (MERT) has at its disposal a deployable & comprehensive communications capability.
Fundamentally, MERT communications is Very High Frequency (VHF) digital radio – this benefits from a number of advantages in that it is simple, field deployable, not reliant on existing infrastructure and has comprehensive functionality such as real time GPS tracking & mapping, call recording, encryption & data messaging.
MERT also takes advantage of a number of communications applications using existing mobile phone networks.
All communications is supported with an comprehensive command & control structure which includes logging, dispatch and comms network management tools.
MERT assets are registered on the Scottish Fire & Rescue's Community Asset Register.
Terrestrial Communications (VHF/UHF)
Who We Can Talk To:
British Red Cross, Mountain Rescue, RNLI, Coastguard, Marine Band, UK Search & Rescue agencies, Amateur Band, RAYNET, Scottish & Southern Energy (Note: Ability to 're-program' analogue radio equipment 'on the fly' to accommodate interoperability with other agencies).
General Services Available:
Networking; including wired & remote links, multiple laptop based work stations
Power supplies (all equipment can be run standalone without reliance on national grid): 
Most equipment can be battery operated (deployable battery packs). 

Portable 'suitcase' inverter generators (230Vac). 

230Vac Inverter (provides mains from battery packs)
Communications Hardware
Note: All digital radio systems are encrypted (secure voice) and offer features such as GPS tracking & mapping of individuals, texting, lone worker protection, private calls and emergency one button push.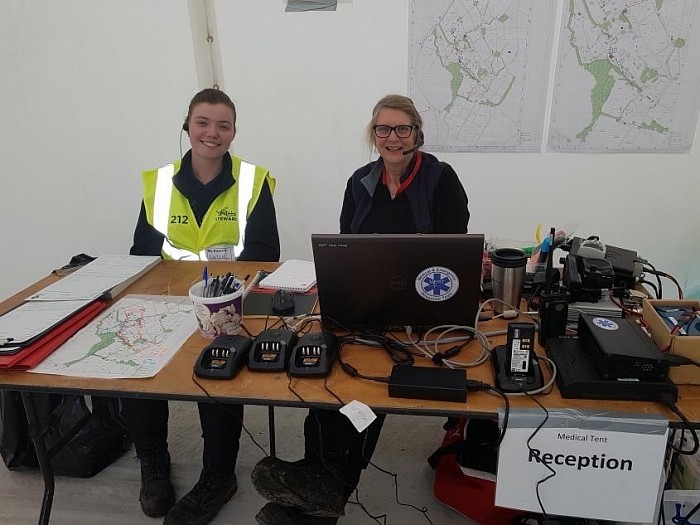 One of three (resilience) networked VHF control stations (controllers can chat, log, dispatch and pass messages via network without using radio - all have visibility/access of control systems). Belladrum Music Festival.
TrboNet control stations (laptops) complete with mapping, logging, dispatch and communications tools. TrboNet based VHF radio system offers:
Security, 

encrypted.

GPS tracking/mapping (safety, lone worker, assists in real time response/asset awareness for efficient deployment).

Data messaging.

Emergency button push.

Call recording.

Software cross patching between different radio networks.

Private calling to individual radios.

 
Digital VHF/UHF base/control station radios (used with control stations but can be used standalone)
Digital VHF base station radios (all GPS capable, complete with vehicle 'fit kits').
VHF/UHF analogue base station radios.

VHF Digital GPS hand portable radios.

VHF Analogue hand portable radios.
Dedicated Scottish & Southern Electricity network radio
Satellite free to air TV receiver with portable antenna (24hr news access).
Base station mobile phones over various network providers.
Networking - Wired and WiFi allowing creation of small local networks with multiple command stations. Connection to outside world (email, internet) via mobile broadband router.
Long range directional WiFi Bridge/Repeater links (up to 1 mile).
Mobile broadband router (email, internet).
Ability to program analogue radios 'on the fly' for addition of 'other agency' frequencies.
VHF analogue repeaters, complete with power packs (significantly extends radio range).
VHF 2 channel, digital repeater, with power pack (significantly extends radio range).
12m Racal telescopic & 5m lightweight antenna masts.

Deployment Applications
MERT communications are used to support planned events (music festivals, marathons etc) – many of these events are often in difficult communications areas within the Highlands (poor mobile phone coverage). By their very nature these environments are not dissimilar to response scenarios in that they are of a temporary 'field nature' often involving mixed agency control rooms. These events provide the cornerstone experience and skills for MERT personnel within comms planning & setup, command & control and operations. 

Predominantly aimed at providing forward tactical communications in remote locations of difficult access or where existing infrastructure is non-existent or limited. 

Equally, suited to urban environments where infrastructure has been compromised.

Network can be tactically re-deployed/modified to meet changing incident circumstance.

The equipment lends itself to rapid ad hoc deployment in situations of flood, storm damage, wild fires, communications/grid infrastructure failure or any circumstance where a standalone communications network may be of benefit.

Equipment is straightforward to use, can be passed to other agencies.

Skilled operators with many years experience of events, major incidents & emergency callouts.