Volunteering Opportunities 
Event First Aid Volunteers
Our Event First Aid team is a group of trained volunteers providing the highest standard of first aid to events throughout the north of Scotland. 
Recognised as a highly competent and effective team we are often the first call for organisers planning their everything from small sports events to large music festivals.
We are currently looking for new volunteers who can work with our established team in maintaining high standards of patient care and ensuring the public gets the help it needs when they become injured or unwell at events.
We provide training for those volunteers who require it and have opportunities for development within the team.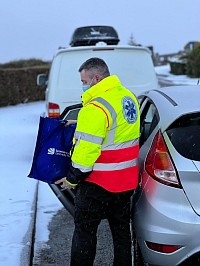 Incident Support Volunteers
We are currently looking to increase our volunteer base available to assist statutory services and our local communities during emergencies and during significant incidents.
Most recently this has included responding to power outages in Aberdeenshire providing welfare checks on vulnerable persons and providing food, water and resilience support to those we have contact with.
Volunteers should be over 18 and will require to complete a disclosure check.  Training will be provided so no previous experience is required.  Our volunteers are from a variety of backgrounds with everyone bringing different skills which creates a team that is flexible and an asset for any situation.
You can contact our team for more information here.