MERT News
Thanks to a donation from Omniscot, an Inverness and Dingwall based IT company, we have been able to provide another volunteer with one of our Response Kits.
These kits are used by our teams to provide aid to others predominantly at events held within the highlands.  When not at events, kits are kept by our volunteers so they can provide assistance to others they come across who may be injured or unwell.
It's great to be able to provide another of these lifesaving kits to our volunteers who give up huge amounts of time to maintain skills, through certified courses and exercises, delivering services at events, and helping others during other times.
Donations are an important way for the team to gather income and develop capability. Previous donations have been used to help purchase everything from kits to workwear (St John Scotland), a team vehicle and radio systems (SSEN).
If you wish to donate and help us develop our team and help others please click on the link on our homepage.
Something new for the team this year was providing event cover to the World Stone Skimming Championships.
A 2 man team attended the event taking all required first response equipment over on the islands passenger ferry.  And braving the elements whilst enjoying this small but well attended event with people attending from a far away as Australia.
No podium finishes for our representative but a fun event in a rather different environment!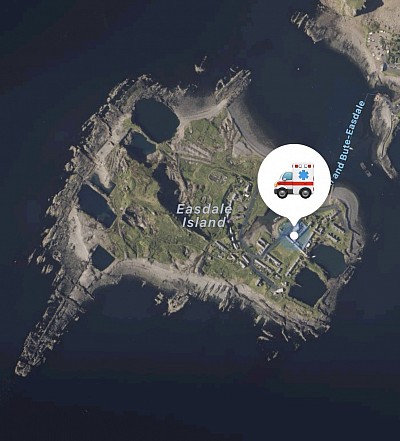 Medical & Emergency Response Team AGM
AGM followed by team meeting now planned for 6th July, 19:00, At the Chieftain Hotel, Inverness.
First official deployment for new vehicle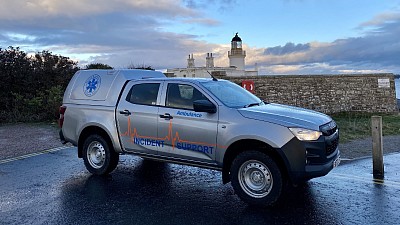 Storm Otto provided the first official tasking of the teams newest asset.
The team were requested to support SSEN by providing welfare checks to almost 100 households within Aberdeenshire.
The households were all registered on the Priority Services Register which is utilised during times of extended power outages.
The vehicle was part funded through the SSEN Communities Resilience Fund and it was great that the team get out to provide the support when it was needed.
If you want to find out more about what we do have a look at our website and get in touch if you are thinking about joining our team.
2023 Starts of with the power of Peat & Diesel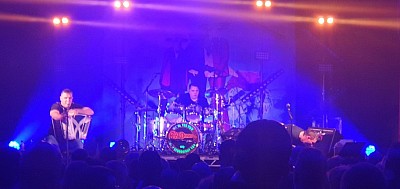 Our volunteers have started the year covering gigs in Inverurie and Banchory for Western Isles band Peat & Diesel!
Although based in the Highlands, our team provides cover across Northern Scotland delivering the highest quality care whenever it's needed by those attending our clients events. 

These skills are also put to use when in our communities with over a third of volunteers available to respond to local and national incidents.

If you fancy joining our team have a look at the website and get in touch.

All in a days work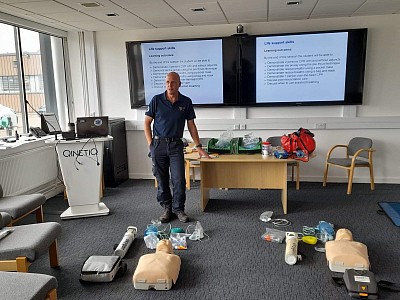 Our team consists of volunteers who provide various different roles. Dave is one of our team of trainers who today was due to deliver an Emergency Oxygen course for one of our clients in Kyle of Lochalsh.  
Unusually Dave had to delay the course start due to being activated by the ambulance service as a first responder to an emergency call in his local community.
Over half of our regular volunteers are kitted with defibrillators and emergency equipment so they can be deployed in an emergency within their community or across the highlands.
To find out more about our team look through our website..
Congratulations
Well done to 2 of our team members, Dave and Ray, who have passed their First Response Emergency Care Level 4 award.
MERT Highland is dependent on its volunteers to enable us to provide the best possible event first aid cover throughout the highlands. We repay our team by providing certified courses and the opportunity to enhance and develop their skills by providing or sending members on additional training in line with their roles.
If you think you have what it takes to help others when they need it most, and can commit to making sure your skills are the best they can be, then look in to becoming a team member!!!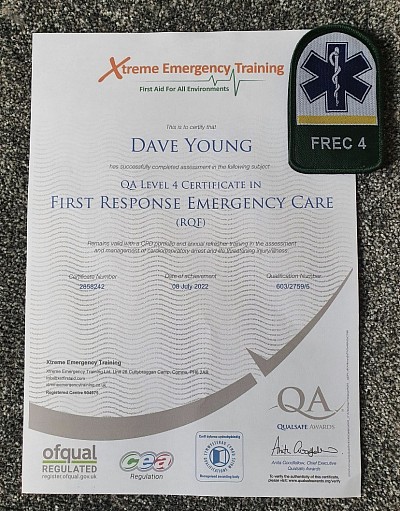 Thankyou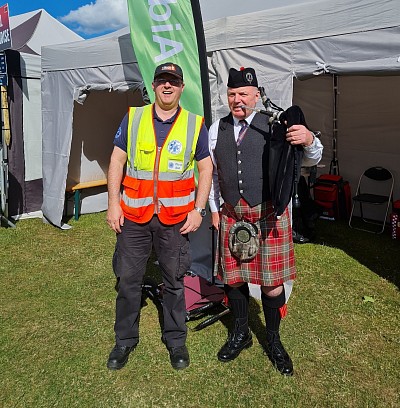 Our volunteers were out at the European Pipe Band Championships this weekend and were visited by Brian Robertson.  Brian dropped by to thank the team for their quick response after he became severely unwell at the 2019 championships.  
Pictured with Brian is Ray, one of our Responders with enhanced skills who responded as part of the team prior to Brian being transferred to hospital.
The team always welcomes thanks and feedback but personal visits are really appreciated letting volunteers know that the work they put in and hours they give do matter and do make a difference.
British Red Cross (DEC) fundraiser for Ukraine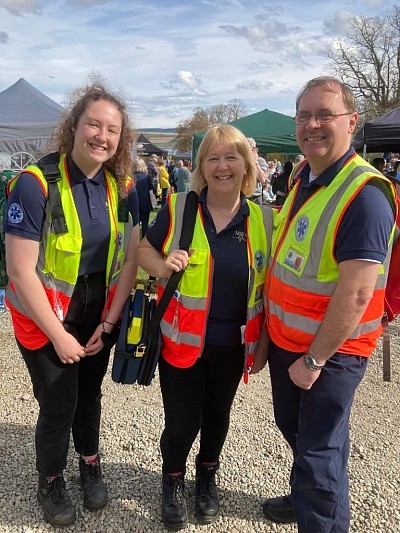 MERT in attendance at the British Red Cross (DEC) fundraising event last weekend at Foulis Castle.
The team, all of whom previously volunteered for the Red Cross, attended for the day to provide first aid cover which was done free of charge to ensure funds raised were going to where they are really needed.

Thanks and well done to all involved, British Red Cross, and MERT.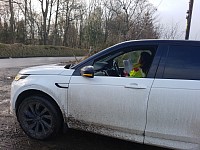 Storms Malik and Corrie
Christmas time cover
Busy weekend for some of our volunteers this weekend covering Skipinnish and Deacon Blue concerts. We also provided support to Operation Respect and attended youth American Football this afternoon.
Thanks to all those in the various teams, busy and occasionally challenging!!! Great work 👍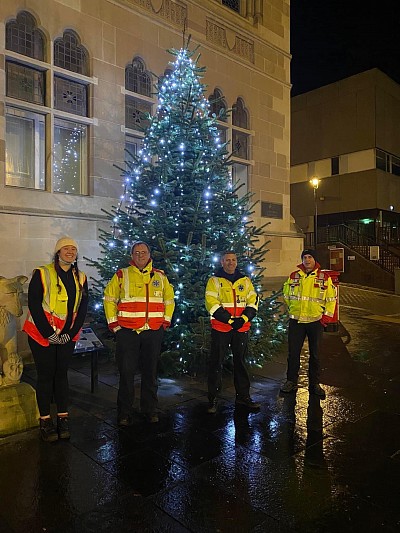 Operation Respect
Our volunteers were deployed in the city centre last night as part of Operation Respect. 
This multi-agency initiative saw us working with Police Scotland, Inverness BID, HTSI and the Inverness Street Pastors, all looking to maintain the safety of those out enjoying the festivities and providing help and support where required.
Well done to all the team who proved very early on the value of their knowledge, experience and ability to form an effective team with other agencies and their staff.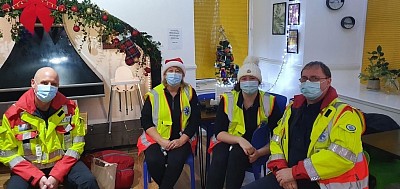 Storm Arwen
Volunteers have been deployed in support of Scottish and Southern Electricity Networks who have been working hard after large areas lost electrical supplies during the storm.
Volunteers have carried out welfare checks on people on the Priority Services Register and delivered food, hot water and winter kits.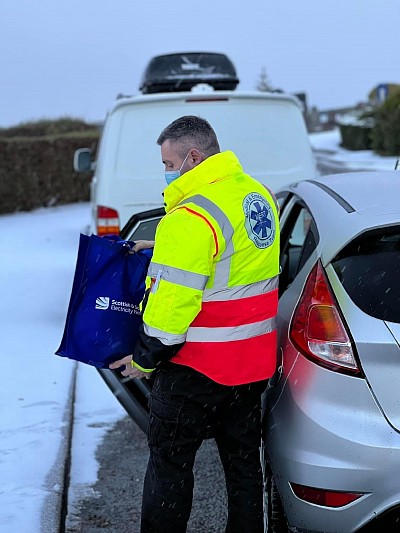 Over the last few weeks we have been delivering training to companies in Skye and Lochalsh.
Delivery of these certificated courses allows organisations to meet their statutory requirements in regard to workplace first aid and provides our team with income to support team development, equipment provision, training and to meet the ongoing costs of running the team.
Thanks to the organisations involved for choosing us as your provider and to our training team who's hard work is appreciated by the wider team.