MERT News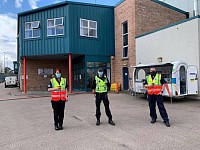 A Return for the Event First Aid Volunteers
Our volunteers are out this weekend providing support to the SPE count today and tomorrow. This is a great step forward with events having been cancelled during the last year of COVID-19.
Great to be getting back out and letting others know about our team and our capabilities whilst also providing support at local events!!
Caught on camera our volunteers grabbing a coffee in the sun whilst talking with local police officers also providing support to the count
MERT & SSE
Members of our Emergency Support team met with SSEN today to discuss the capabilities of our team and to explore what support we can provide SSEN and the communities they serve during adverse weather and power disruptions. 

Our team can provide support relating to:
- Communications
- Logistics
- Welfare Support
- Assistance Centres
- First Aid
Return to Team Development Training
Today saw a return to training for our volunteers in order to prepare them for events whilst coronavirus remains a significant risk. This included new policies and procedures now in place to facilitate treatment where coronavirus is a potential risk.
Free Small Event Support
Our team are introducing free small event support for local events which meet certain criteria.
This will help us to support local events and the communities that attend them.
For more information click here.

New Website
Thanks for looking us up.
We will shortly be opening our new website.  

If you need us in the meantime please email us using the contact us page.